The 10 Biggest EDM Festivals In The World
The biggest EDM festivals in the world are some of the most exciting events on the planet. From the crazy lights, to the spectacular lineup of artists, to the at electric atmosphere, EDM festivals are a unique experience and always a fun time if love to party or have fun. That being said, there are so many to choose from it can get overwhelming to decide. Let's dive in to our top picks!
10. ZoukOut Festival (Singapore)
When: Dec 2-3 | Where: Singapore | Attendees: 45,000+
Zoukout festival is one of Singapore's biggest parties that has received awards and recognition from some top festival critics. ZoukUut is known for it's relaxed atmosphere with state-of-the-art lighting and sound systems. If you're in Singapore in December, you won't want to miss ZoukOut.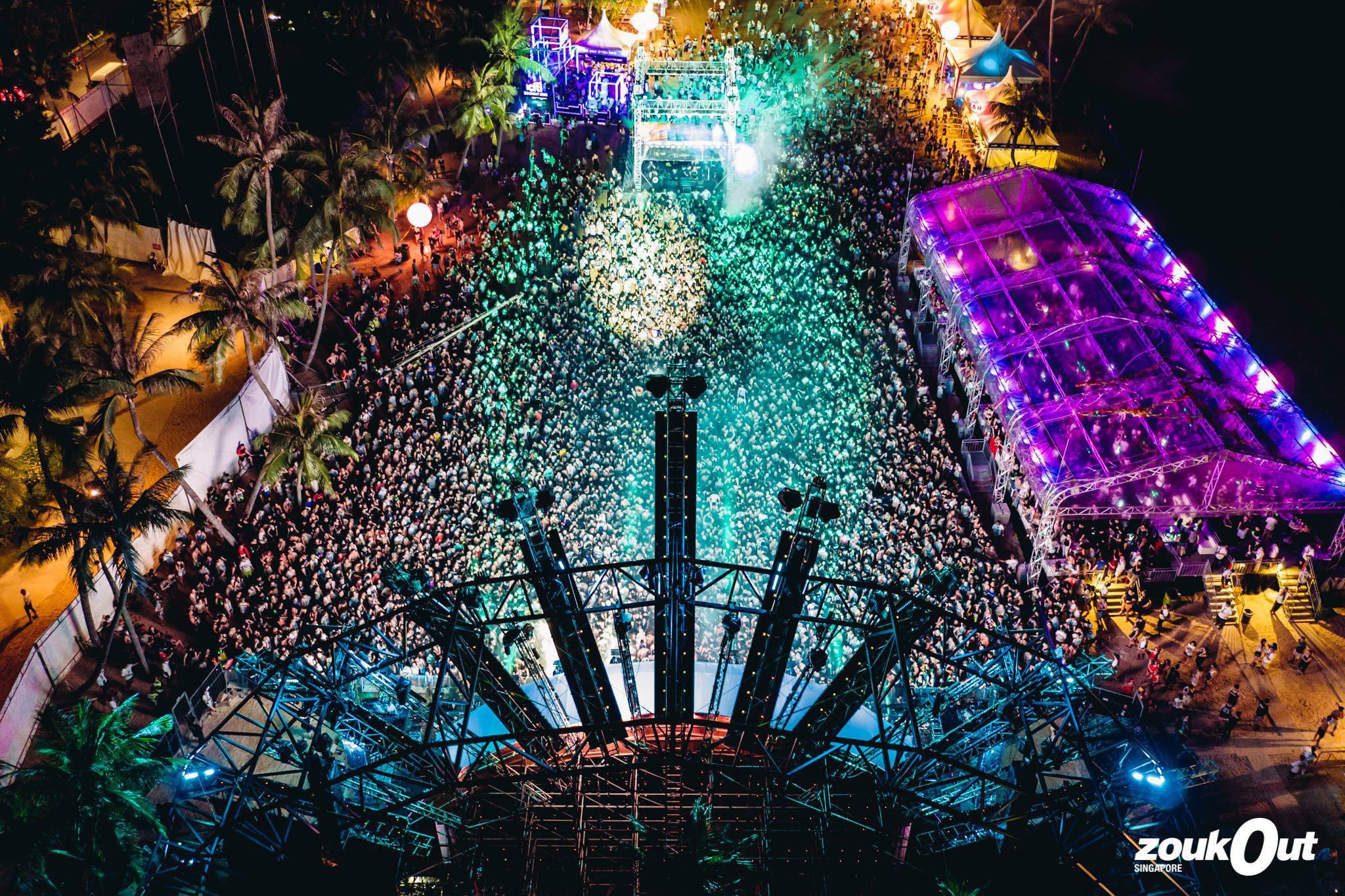 When: Aug 24-27 | Where: UK | Attendees: 80,000+
Creamfields is one of the UKs biggest music festivals. Creamfields is notoriously split into Creamfields North and Creamfields South, which are held at different locations in different dates.
As you would expect from any world-class festival, Creamfields boasts massive stages, stunning visuals, and top-tier artists from around the world. What seperates Creamfields from some of the other large festivals is a diverse lineup and luxury camping. There's something about camping at festivals that just speaks to us! Maybe it's because you don't miss a minute of the action?
8. Ultra Miami (United States)
When: Mar 24-26 | Where: USA | Attendees: 170,000+
Ultra Miami is a legendary festival and one of the best EDM festivals in the US. As one of the biggest EDM festivals in the world, Ultra is unparreleled in atmosphere. The venue takes place at the beautiful Miami beach waterfront and comes with plenty of sunshine, unbelievable DJs, and vibes out of this world. It's one of the best places in the US to show off your new rave clothes!
When: Mar 24-26 | Where: USA | Attendees: 180,000+
Djakarta Warehouse Project (DWP) is one of the largest music festivals in Asia and takes place in the heart of Indonesia. Jarkarta itself is known for an amazing nightlife scene and an energetic atmosphere, so it's DWP fits right in.
Although every festival emphasises inclusivity and acceptance, DWP prides itself on promoting inclusivity strongly. We love to see festivals promote love in any shape or form!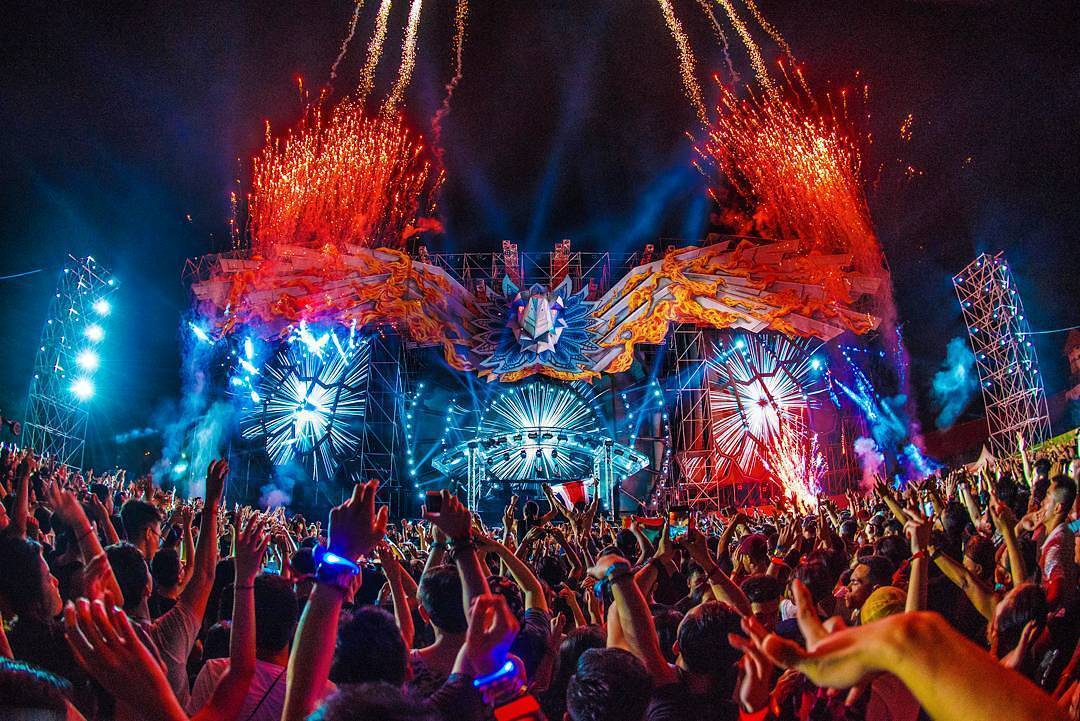 When: Mar 24-26 | Where: USA | Attendees: 170,000+
Ultra Tokyo carries the weight of the legendary Ultra festivals but takes place in one of the most popular and tech-forward cities in the world. This means Ultra Tokyo is not only one of the biggest EDM festivals in the world, the sound systems and visuals are some of the best on the planet.
Plus, since Tokyo is one of the fashion capitols of the world, we recommend finding some unique rave outfit ideas to show off your sense of fashion!
5. Mysteryland (Netherlands)
When: Mar 24-26 | Where: USA | Attendees: 180,000+
Mysteryland is truly an icon in the EDM scene. This festival is respected as one of the oldest ongoing EDM festivals dating all the way back to 1993. Not only is it a legendary festival, it's also held in the lush forests of the Netherlands just outside of Amsterdam.
This festival has been known to offer a diverse lineup of EDM artists ranging from techno to house and everything in between. Mysteryland will even throw in some hip-hop to the mix
4. Untold Festival (Romania)
When: Aug 3-6 | Where: Transylvania | Attendees: 240,000+
Untold Festival is a legendary European EDM festival that takes place in the beautiful woods of Transylvania. This iconic festival boasts a large range of EDM genres and immersive performances. What really makes Untold stand out from the other festivals in the awe-inspiring sense of community the festival has built of over the years.

People from all backgrounds and walks of life gather in this mystical Romanian forest and dance their heart out every year.
3. Sunburn Festival (India)
When: Oct 7 | Where: India | Attendees: 300,000+
Sunburn Festival is India' largest EDM festival This behemoth hosts over 300,000 festival lovers every year. Sunburn Festival gets its name for being held on the sunny beaches of Goa. As you might expect, a festival of this size brings in some of the artists from the world.

Sunburn Festival is know for its sustainability and keeping its carbon footprint to a minimum. We're all about climate-friendly festivals so Sunburn Festival has a special place in our heart.
When: May 20-21 | Where: USA | Attendees: 410,000+
EDC Las Vegas is one of the famous famous music festivals on the planet. Not only does it serve as a beacon of EDM, it also has a sprinkle of (almost) all genres of music. EDC is known as a "pleasant assault of the senses", encompassing bright colors, extraordinary sound systems, and an entire carnival held within the Las Vegas Motor Speedway.
If you only go to one music festival in the US, you can't go wrong with EDC being your top choice. Don't forget to check out the best EDC outfit ideas!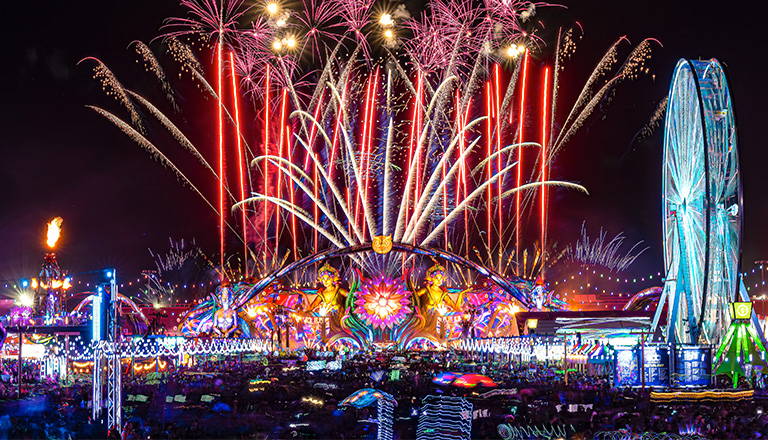 1. Tomorrowland (Belgium)
When: July 21-30 | Where: Belgium | Attendees: 600,000+
Tomorrowland is offically the biggest EDM festival in the world. This behemoth hosts over 600,000 music festival lovers every year. As the world's biggest festival, you can expect top-tier technology including cutting-edge sound systems and production quality.
The best and biggest artists from around the world make their way to the massive stages of Tomorrowland and play their heart out. Because Tomorrowland is on the bucket list of ravers around the world, you can expect to meet people from all walks of life when you journey to the land of tomorrow. Don't forget to show off your cute rave outfits while you're there!