The Best Rave Apparel Guide
Rave apparel has changed dramatically over the last couple of decades. Many styles and designs have come and gone but colorfuland cute rave outfits are having their fame in the limelight now. Color never goes out of style.

Girls all across the world are getting more and more creative with their choice of festival wear. Let's dive in to our rave apparel guide!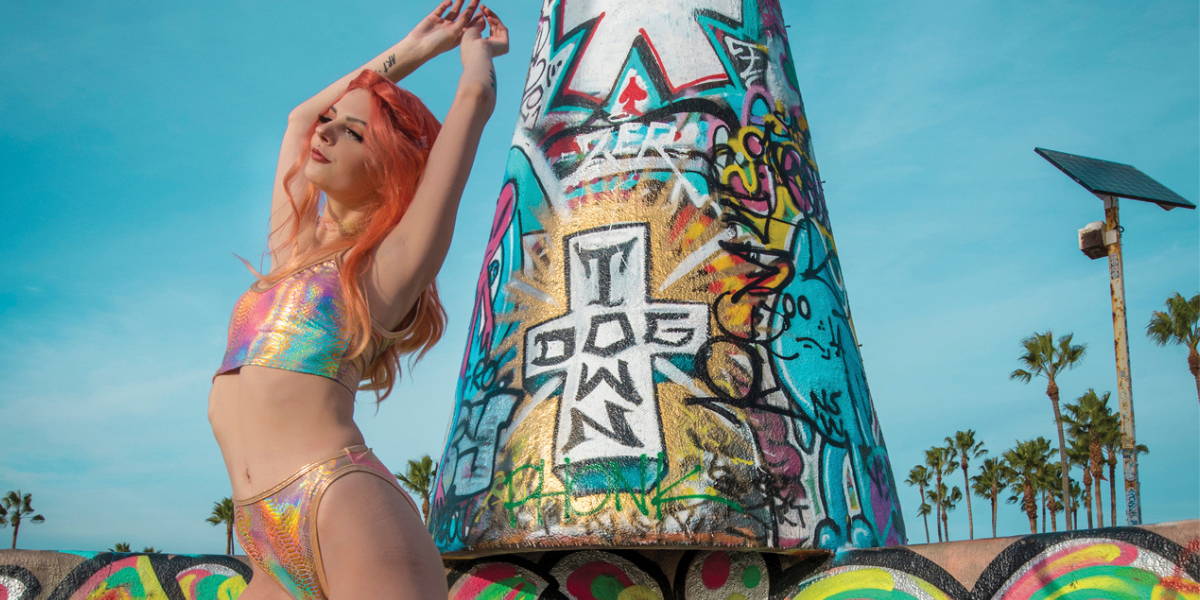 We've put together a stunning rave bodysuit collection that features pieces that show off many different colors and patterns when exposed to light! As we all know, a good rave is jam-packed with light shows and lazers.

Holographic rave outfits are an amazing way to keep the party going and to look great while doing so. Our top-selling holographic bodysuit comes in four gorgeous colors and shines with tons of reflective color.
Everyone loves a good bodysuit, but our top rave apparel list wouldn't be complete without some good tops and bottoms!

Our favorite rave top and bottom combo is our Metall Wrap Rave Top and Metallic Wrap Shorts! This gorgeous pair is full of color, comes in seven unique designs, and are some of our top selling products.

Another stunning combo is our Holographic Harness Top & Holographic Bottoms combo.
This gorgeous combo has a deep "V' cut down the middle with a beautiful holographic effect that really brings a good lightshow to life.
Maybe you already have a few tops and you're looking for some new bottoms to fill in the gaps. Here are some new pieces to add to your wardrobe.

You don't want to miss our adorable Rainbow Pinwheel Skirt. This colorful skirt is a super popular pick that's perfect for a rainbow-style outfit.
Our runner-up choice is our Strappy High-Waisted Shorts! These cute bottoms have a sparkling hue with straps that go around to the back. Coming in either purple, light pink, or light green, these beauties are a super popular pick from other ravers

If you're looking for some rave chaps instead of shorts or bottoms, we've got you girl!
These stunning chaps have a feathered aesthetic with a super cute hot pink frazzle. Oh, and the studded belt looks amazing.
The Best Rave Accessories
Rave outfits wouldn't be complete without some amazing rave accessories, would they? From cute gloves, to garters, to rave shrugs, we have them all!


We're super excited to have recently launched our Rainbow Garter Leg Straps! These rainbow-themed beauties really add some color to your fit.
Next up on our list is our pair of Mesh Lace-Up Gloves! These gorgeous gloves really add an extra layer of cute to your outfit that's oftentimes overlooked.


Besides Kandi, ravers often miss out on wearing anything on their arms. We've here to fix that! These gloves come in seven unique colors.
Last but not least, we couldn't include accessories without our favorite rave shrugs! Dancers love our shrugs.

The way they glide in the wind is mesmerizing and super fun to use. If you haven't used a shrug before, we highly recommend trying! This shrug comes in three different colors including black, pink, and white.
We hope you enjoyed our list of the best rave apparel this year! Even though these pieces are some of our favorite picks, we carry many more great designs.

Already have your outfits picked out and looking for your next fest? Check out our top 10 EDM festivals In The US.