The Ultimate Guide To Electric Forest
Welcome to our guide to Electric Forest! The Forest is a magical experience that is consistently described as attendees' favorite festival. The vibe, the forest, the music, and the food are all amazing. Electric Forest is absolutely one of our top EDM festivals in the US.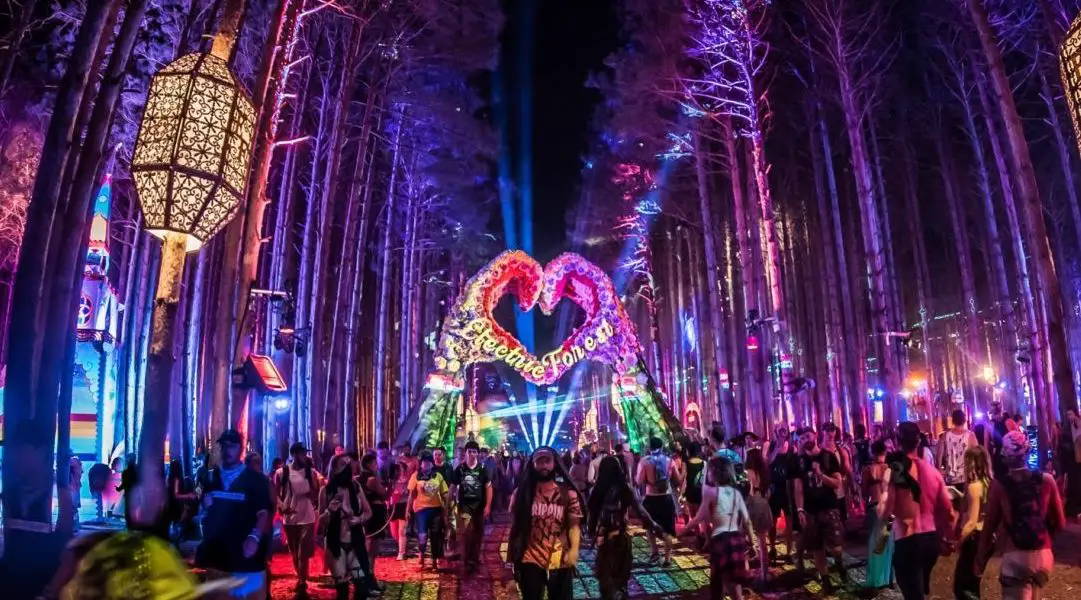 Electric Forest is one of the most world-famous and highly celebrated electronic music festivals in the world. Every year, 45k attendees gather in Rothbury, Michigan to celebrate all types of EDM and jam bands in the forest.
Electric Forest takes place on two weekends in June, but ever since COVID the festival has only been one weekend. The festival takes place on June 22 - 25.
How much does Electric Forest cost?
General Admission tickets are usually around $365 but tend to increase slightly every year. If you miss the initial sale, scalpers usually resell them for around double the price or more. Of course, music festivals cost more than just the ticket itself. You can expect:


GA Ticket: $365.
Flights $200-$600+
Rental Car/Camping/Food/Early Arrival: $300 - $400
Outfits For Electric Forest: $50-$150
Total: $1,200 to $1,600

Does Electric Forest have a loyalty program?
Electric Forest has a great loyalty program. For people who attended previous years, you can redeem a code which guarantees a ticket for the next EF. There are three tiers to the loyalty program:


GA Loyalty
4 In The Forest
6 In The Forest


As you might have figured out, the later tiers refer to how many years someone has attended 4 or 6 Electric Forests. The better the tier, the higher your priority is.
Airports closest to Electric Forest
If you're flying to Electric Forest, your best bet is to fly into Grand Rapids, Chicago, Or Detroit. Once you arrive at the airport, you can either rent a car or a shuttle to the campground.

There are both one-way and roundtrip shuttles to and from the airports. If you can't rent a car (especially if you aren't of age) it's probably best to choose this route. If you're worried about luggage, you're allowed to bring three items on the shuttles. For instance, you could bring a large bag, a cooler, and a suitcase with you on the shuttle.
How long does it take to drive to Electric Forest?
From Grand Rapids to the campground: 1-2 hours
From Detroit to the campground: 3-5 hours
From Chicago to the campground: 3-5 hours


As you're probably aware, traffic can affect how long it will take to drive to Electric Forest, these estimations should give you a pretty good idea of how long you'll need to get to the campground from the major airports.
How to camp at Electric Forest
It wouldn't be a complete guide to Electric Forest without mentioning camping! If you're new to music festivals (or even camping) don't worry, we got you! Camping at a music festival makes the experience even more enjoyable if you do it right. Every time you camp, you'll learn more about what you want to do better next time and improve. Just a few things to remember:


There is security at the campground - make sure you take a look at what you can and can't bring to the festival Your neighbors are your friends! Everyone at Electric Forest has good vibes and wants to make friends just as much as you do! Don't feel shy, talk it up!
Car campaign spots are around 12'x30' so keep that in mind for your tents and luggage.
Bring trash bags! You're going to need them and the last thing you want to do is pollute the beautiful forest.


No glass is allowed on the campground so bring those wine coolers! Showers are $10 for use. Feel free to bring portable showers if you want.
What to wear to Electric Forest
Luckily for you, we just so happen to offer sute cute rave clothes. If you're looking for some amazing fits to rock in The Forest, we highly recommend checking out our rave bodysuits!

If you're looking for individual pieces to complete your fit, check out our best-selling rave chaps! Don't forget to add the last touch to your Electric Forest fit by trying some of our super cute rave accessories! If you really want to rock a cool look, we recommend checking out our guide on what to wear to an EDM festival or even our best summer rave outfits!
To wrap up our guide to Electric Forest, we're throwing in a few more tips to make sure you have the best experience possible! Make sure you get lost and explore! After all, the wonder of a music festival is exploring the campground and having a unique experience.


Eat the food! For real, the food is amazing at Electric Forest. Have fun in The Forest! It truly is a unique festival with so much to offer. And remember, PLUR!